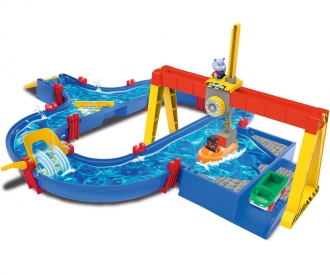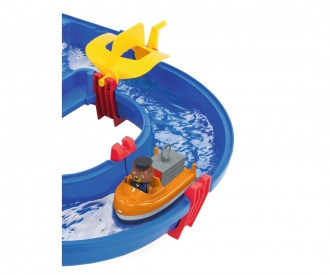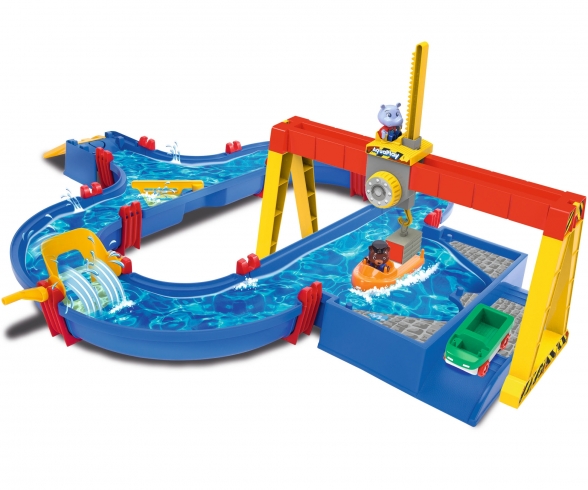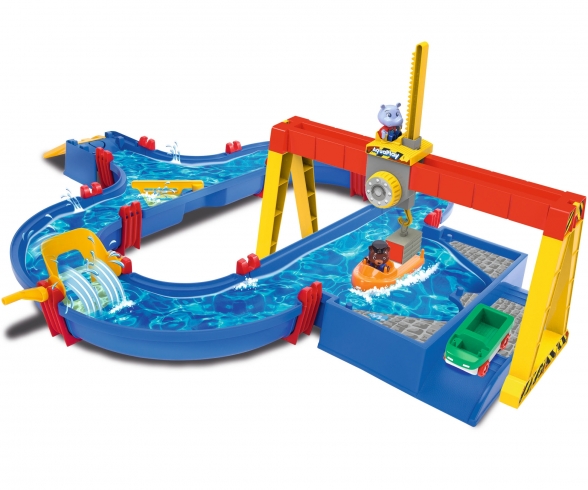 in stock, Delivery time 1-3 working days within Germany
Hours of fun are guaranteed with the AquaPlay ContainerPort. Children from the age of 3 will love playing with the large port basin and adjustable freight crane, learning how to load and unload the transport boat and amphibious vehicle. And if the transport boat isn't transporting its load to its destination quickly enough, the set also includes a crank handle with large blades to get the water moving.
The mobile crane operates across the large port basin. Through play, children will learn how to operate the crane arm and use a turning wheel to move containers. By pushing the crane cab, children can move the container for unloading along the full length of the crane from one side to the other.
The large AquaPlay ContainerPort set includes a canal system with port basin and access ramp, a large gantry crane, a crank handle to generate a current, a container boat with containers, an amphibious vehicle and the two play figures Bo the Bear and Wilma the Hippo. Together with their two friends, children can learn about water through play, discovering how currents are created, what makes water change direction, and how boats float. The set will also teach them how to coordinate simple processes such as the loading and unloading of containers and manually raising and lowering the crane arm.

Warning! Not suitable for children under 3 years due to small parts. Choking hazard!
Dimensions assembled (L x W x H): 104 x 90 x 25 cm
High play value due to several accessoires and functions: a port, a ramp, gantry crane and manual hand crank for water action
Modular system provides unlimited of opportunities for expansion and rebuilding
Movable crane arm with rotary control to move the crane arm up an down
Durable and environmentally friendly plastic material
Connecting clips incl. self-adhesive rubber strings allow the waterway system to be easily assembled
Inclusive a carrier boat, amphi truck and the two play figures bear Bo and hippo Wilma
Frequently bought together
Frequently bought together