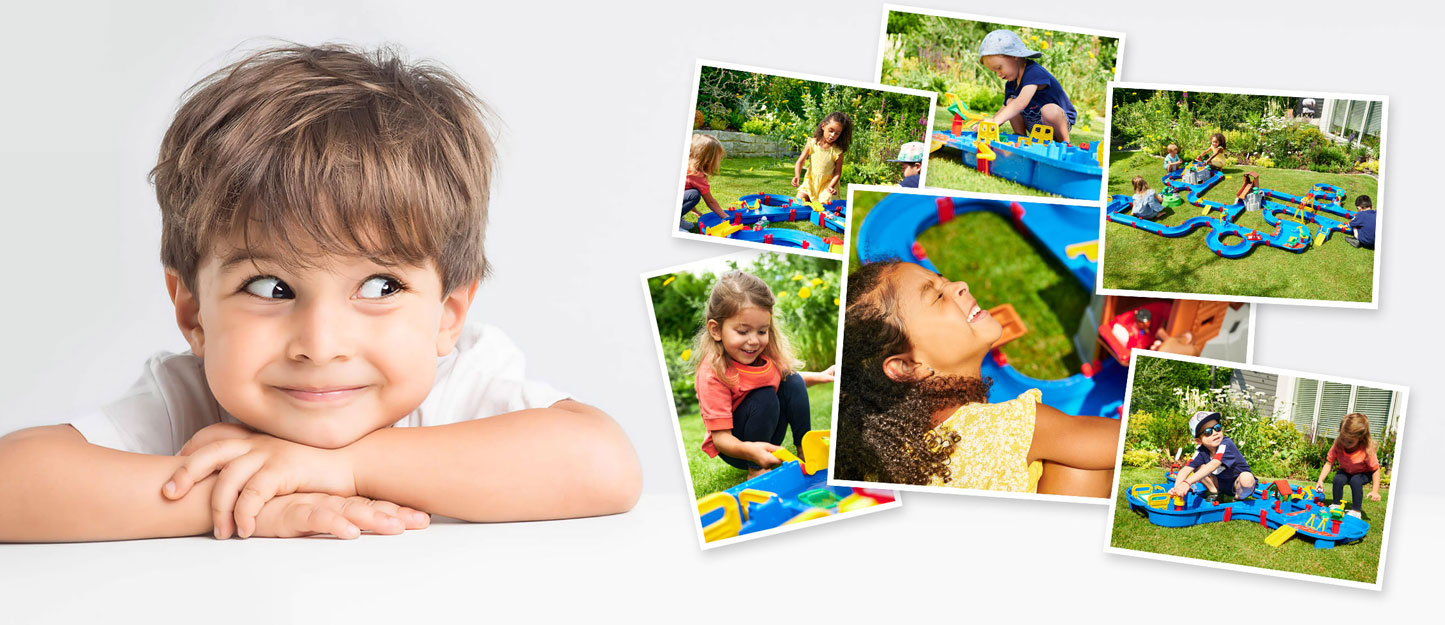 The versatile waterplay system
AquaPlay, the versatile waterplay system consists of individual plug-in modules and fascinates since 1977 children from 3-7 years with the element water. The principles of cause and effect, such as movement and direction, are explained playfully with AquaPlay.
Brand philosophy
Play and Learn
While children gather first experiences with waterstream and directional determination, they develop fantasy, imagination and creativity.
Both parents and educators appreciate the award-winning toy system as a representative of high-value, quality and educational play with the element water.
AquaPlay stands for:
Educative playsystem


The educational play idea offers many exciting learning moments and explains playfully basic physical principles around the element water:

How can water lift boats?
How can water flow or rise?
How does a sluice, how a pump, how a crane work?
Why and where does a boat float?

Modularity
The AquaPlay Sets are modular and offer the children endless opportunities to create a very own AquaPlay World. All sets can be connected to one another and can be extend permanently thanks to the large accessory collection and expansion sets.
Show more
Show less
History
The AquaPlay Story
With background as a pedagogue and an engineer, the two Swedes Britt and Lennart Dahlgren, struck by the fact how fun children thought I was to play with water and how much children learned while playing. Together they started to work with different prototypes to build water canal systems. There among they tested to build drainpipes together in the form of canals.
AquaPlay was founded in Gothenburg, Sweden. The first water canal system was called Aqualab and was much wider compared to today's version.
An updated version is established. The bright and clear colours that today are AquaPlay's trademark were also established at this time. These colours were considered happier and more play friendly for the children.
The products have been developed over the years. For example, AquaPlay's symbol figure, the Bear Captain, was launched in 2001.
The first box version was launched! Now you were able to bring along your AquaPlay set on vacations and to friends. This was revolutionary and the concept became a big hit.
The global bestseller of today is presented; the AquaLock! The box concept is also added to the larger articles. Here it is possible to detach two boxes halves and fold them together like a suitcase and carry along.
AquaPlay is acquired by German Simba Dickie Group.
The production moves from Sweden to Germany.
Along with the 40 years celebration the launch of Mountain Lake, new boats and animal puppet family is presented!
Show more
Show less
Production
Made in Germany
Since 2015 the AquaPlay products are produced in the BIG production plant in Burghaslach, located next to the A3 motorway between Würzburg and Nuremberg: Covering 320,000 square meters in total, it is home to one of the most modern toy factories in Europe.
Quality
High quality from the beginning
All products are made of high quality, recyclable plastic and are tested according to the latest standards EN 71 and ASTM.

By usage of masterbatch with high UV-stability and optimal colour fastness the AquaPlay products are solid and unfading even after long insolation. On low UV-stability the colour gets quickly fading and the plastic material gets crumbly and can crack. If the AquaPlay products will not be used for longer time we recommend to cover the items or store them inside to protect them against fading and material damages by strong solar radiation which cannot be avoided in the long run.

The CE-Mark (Communauté Européenne) certifies that a product conforms to the minimum requirements of the respective EC Diriectives. All manufacturers are obliged to place the CE Mark on all products which fall within the jurisiction of the EC-Directives (e.g. toys).
For more information see
https://www.lga.de/
Show more
Show less